Visit BJ's gallery of creations; order patterns or finished projects.
This site is a great source for original scroll saw and intarsia patterns, as well as many other kinds of small woodworking projects, including tips & techniques for working smarter & safer.
Custom hand made scroll saw Fretwork & Intarsia woodcrafts. Order from the existing selection or contact Randy for custom order projects.
Fox Chapel Publishing
Woodworking Books & Magazines for the Inspired Woodworker. Home of Scroll Saw Woodworking & Crafts magazine. This site contains a wealth of information and resources for woodworkers.
This site is a great resource for details on American hardwood species, sustainable forestry, and a glossary of hardwood terms.
Over 120 unique intarsia patterns to download straight to your PC. No delivery charges - no waiting for the mail.
Intarsia E-Book and Links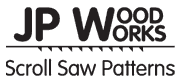 Visit Stan's gallery of scrolling and pryography creations.
Blade selection, The Flying Dutchman blades, accessories, books and more.
Putting precise tools in your hands.
14" and 21" scroll saws, Super Sharp scroll saw blades, Timber Wolf band saw blades,
Robert Sorby turning tools, Intarsia patterns by Garnet Hall, woodworking books & more
Information about specialty and miniature projects, saw reviews and selection, blades, scrolling & shop tips, Scroll Saw Picnics schedule, etc.
This is the site to go if you are interested in Fretwork, Marquetry, or Intarsia; whether you work in wood, or other mediums; whether you design your own patterns or use available patterns; no matter what brand of scroll saw you use; no matter where in the world you are located. Join with Scrollers World Wide. This site contains a wealth of in information about publications, events, scrolling tips, resources and programs, etc.
Scroll saw fretwork patterns, tutorials, shopping recommendations and other interesting content for the scroll saw enthusiast.
This site is your leading online resource for inspiration and instruction, including tips and techniques, free scroll saw patterns, scroll saw books, product reviews, scroll saw message boards, photo galleries, contests, and much more!
The Wood Box
This site is an excellent source of information about the toxicity of woods, and provides information on the precautions to take with each type of wood to protect your health.
Patterns, Books, Scroll Saw Blades, Clock Fit-ups, Hardware, Accessories, Wood Parts & much more.

Heirloom Quality Fretwork and Intarsia
3-D Scrollsaw Patterns - Amazingly simple, astonish yourself, astound your friends. Easy to follow patterns guide you through the steps. It is as simple as one, two, three to create 3-D animals or chess sets.
Woodbin
This is the place to learn about woodworking software and locate woodworking reference information. There is a wealth of general information about woodworking elsewhere on woodbin.com.